Over the next several days I'm going to share with you some healthy living
gift ideas for the holidays! 
I'll try to keep the posts brief because we all need more simplicity at this time of year,
so if you have additional questions, be sure to ask.  I'm happy to answer!
This idea is a bit last minute (due to holiday shipping schedules), which is why I'm sharing it with you right away in my gift ideas series.  It's another healthy living topic that I haven't yet discussed very thoroughly: essential oils!  However, I have shared a few different ways in which we use essentials oils in our home, here and here.  We choose to use Young Living Essential Oils for their purity, quality, and effectiveness!  Their Seed to Seal Guarantee is certainly reassuring!
As a word of caution, before buying any essential oils, make sure to gather information about where the plants came from, and how they're grown, processed, and distilled.  Not all essential oils are created equally and they aren't all pure, either.  They have the power to be very potent and effective when pure and used appropriately.  They can be amazing for supporting physical health, as well as emotional, and even spiritual, health!  Oils get used in our home every day for a variety of reasons, including for cleaning!
If you do intend to shop Young Living, I'd love it if you used my link!  It helps my family out and makes it possible for me to continue to bring you valuable content here.  I'm also more than happy to help guide you in your purchases and the use of your products, if you use my link.
Take note of the Young Living holiday shipping schedule:
(My suggestion, always use YL Choice/FedEx Ground
or Faster for shipping method/speed.
The Smart Post option is slow and hard to track.)
The absolute best way to get started with Young Living Essential Oils is the Premium Starter Kit.  Let me tell you why.  It has over a $300 value, yet you get it for almost one half the cost!  Furthermore, you then get 24% off all your future orders (with a minimum $50 annual order).  You also get many of the most popular oils (11 oils), a diffuser, and other goodies!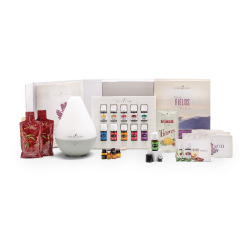 Check out the details:
Your choice of a diffuser (at varying costs; shown with Dewdrop Diffuser above)
Premium Essential Oils Collection-

Lavender 5-ml
Peppermint Vitality™ 5-ml
Lemon Vitality™ 5-ml
Copaiba Vitality™ 5-ml
Frankincense 5-ml
Thieves® Vitality™ 5-ml
Purification® 5-ml
R.C.™ 5-ml
DiGize™ Vitality™ 5-ml
PanAway® 5-ml

Stress Away™ 5-ml
AromaGlide™ Roller Fitment
10 Sample Packets
10 Love It? Share It! Sample Business Cards
10 Love It? Share It! Sample Oil Bottles
2 NingXia Red® 2-oz. samples
Product Guide and Product Price List
Essential Oil Magazine
Essential Edge
Member Resources
One or more of the following essential oils may be substituted in the event of sourcing constraints or supply considerations: AromaEase™, Citrus Fresh™ Vitality™, Lemongrass Vitality™, Orange Vitality™ and Tea Tree.
**Due to high volume holiday demand, the Dew Drop Diffuser may be upgraded to the Desert Mist Diffuser on some orders.
You can, of course, always purchase the oils individually if you wish!  Young Living also has many oil-infused products to check out, like the toothpastes I shared about here, and the concentrated Thieves household cleaner, which are some of my favorites!    I have also purchased essential oils in the past to make DIY homemade gifts, which are always a nice way to personalize a smaller gift as well!  Again, I'd really appreciate it if you used my link if you decide to make a purchase.  Thank you in advance!